For questions and updates regarding already purchased tickets, the booking agents kindly ask ticket holders to please get in touch with their local venue and ticket seller.
DOOL comment: "We had to abandon our original tour-plans with heavy hearts but there was simply no other choice", relate the Dutch. "Yet with an unbroken spirit, we are now glad to be able to present the new dates for our European shows alongside Secrets of the Moon and joined by Caronte. We wish you all a fiery return of the light. Onwards to brighter days!"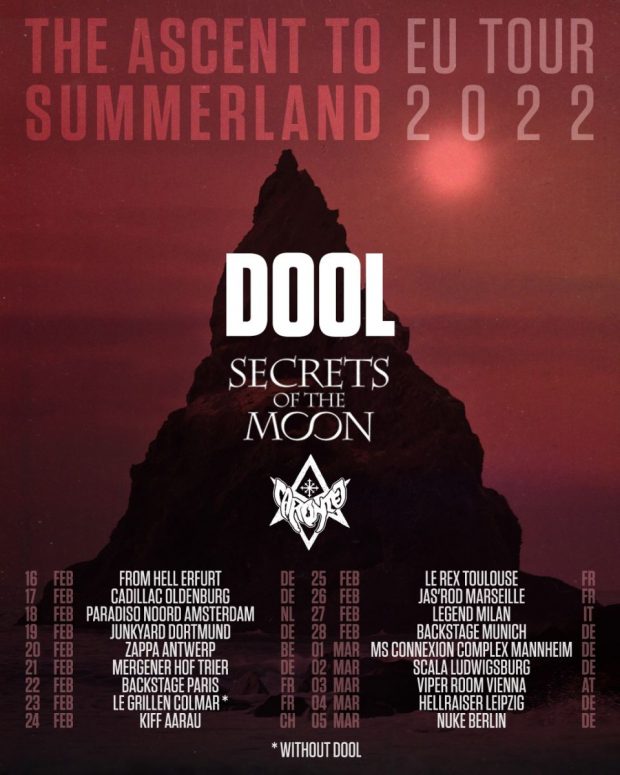 "The Ascent to Summerland EU Tour 2022" is presented by District 19 and Doomstar.
16 FEB 2022 Erfurt (DE) From Hell
17 FEB 2022 Oldenburg (DE) Cadillac
18 FEB 2022 Amsterdam (NL) Paradiso Noord
19 FEB 2022 Dortmund (DE) Junkyard
20 FEB 2022 Antwerpen (BE) Zappa
21 FEB 2022 Trier (DE) Mergener Hof
22 FEB 2022 Paris (FR) Backstage
23 FEB 2022 Colmar (FR) Le Grillen (without Dool)
24 FEB 2022 Aarau (CH) Kiff
25 FEB 2022 Toulouse (FR) Kiff
26 FEB 2022 Marseille (FR) Jas'rod
27 FEB 2022 Milano (IT) Legend Club
28 FEB 2022 München (DE) Backstage
01 MAR 2022 Mannheim (DE) MS Connexion Complex
02 MAR 2022 Ludwigsburg (DE) Scala
03 MAR 2022 Wien (AT) Viper Room
04 MAR 2022 Leipzig (DE) Hellraiser
05 MAR 2022 Berlin (DE) Nuke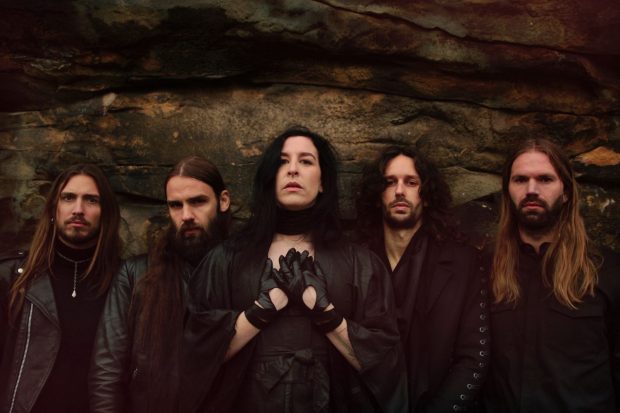 DOOL by Nona Limmen
Ever since rising from the ashes of the THE DEVIL'S BLOOD and ELLE BANDITA in the old Dutch harbour city of Rotterdam in the year 2015, DOOL have left their gloomy mark on the European dark rock scene.
This pack of wildlings has gathered and set its collective goal to achieve creative evolution and spiritual ascension under the name of DOOL, which is derived from the Dutch word for 'wandering'. After some soul-searching through melodies and rhythms, their debut album "Here now, There then" was released in 2017 and immediatly struck gold receiving "album of the month titles" in the renowned German magazines Metal Hammer and Rock Hard as well as the "Best Debut Album 2017" award from the former – among other high praise from around the globe including from Vice (US), Aardschok (NL), and De Volkskrant (NL).
This instant success was followed by DOOL embarking on extensive touring and accepting invitations to prestigious festivals such as Wacken Open Air (DE), Graspop (BE), Hellfest (FR), Metal Days (SL), Lowlands (NL), Fortarock (NL), Wave Gotik Treffen (DE), Rock Hard Fest (DE), Stoned from the Underground( DE), Metalitalia Festival (IT), and North of the Wall (UK) among many others.
In 2019, DOOL released the "Love Like Blood" EP, which featured the Dutch's take on the eponymous KILLING JOKE classic that had already become a crowd favourite in their live shows.
With their sophomore full-length "Summerland" released on April 2020, the shooting stars around charismatic guitarist and singer Ryanne van Dorst confirmed their early headstart and garnered even more accolades in the media. "Summerland scored more "Album of the Month" awards in German Rock Hard (10/10) and Sonic Seducer magazines as well as a #2 soundcheck positions in Metal.de, Metal Hammer (DE) and another #1 in the Polish edition – with glowing reviews on both sides of the Atlantic.
Yet due to the global pandemic, DOOL were prevented from premiering their album on the main stage of the legendary Roadburn Festival in Tilburg, Netherlands as well as going on tour. Given the high level of anticipation, "Summerland" is more than worth the wait and DOOL remain defiant and are determined not to let this masterpiece slip through the cracks. Get ready for early 2022 to finally see those fantastic new tracks new live on stage!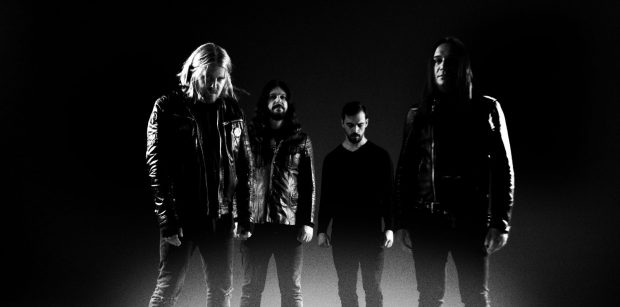 SECRETS OF THE MOON by Dehn Sora/Metastazis
With their latest release "Black House" (May 2020), SECRETS OF THE MOON continue to evolve in the direction the Germans had taken on "Sun" (2015), which leads them further away from their black metal roots into a unique realm of thir own fascinating blend of alternative music and dark rock with a punch.
"Black House" has also been tagged such with "goth rock" and "post punk" among other attempts to nail their ecclectic style down and been referenced to such giants as ALICE IN CHAINS, FIELDS OF THE NEPHILIM, and later TIAMAT. Although there is no agreement into which drawer the new era SECRETS OF THE MOON should be placed, the Germans display a high level of self-confidence in their music, which shows in catchy tunes with subtle twists, blackened grace, and a furious elegance which at times hints at their heavier past.
"Black House" was recorded in The Church of Sound Studio owned by guitarist, engineer and producer Michael "Ar" Zech over the course of almost a full year. During that time, the quartet welcomed eminent guests such as JARBOE and members from EMPYRIUM, THE RUINS OF BEVERAST, DARK FORTRESS, and ENEMY OF THE SUN, who all contributed to the individual vibe of the song that they participated in.
SECRETS OF THE MOON are more than ready to hit the road and rattle Europe, but the German dark rockers had to delay their planned tour due to restrictions in the course of the global pandemic. Expect these vicious live beasts to be more than hungry when they are finally unleashed in early 2022!
Shop link
https://prophecy.lnk.to/secrets-of-the-moon-black-house
Links
www.facebook.com/secretsofthemoonofficial
www.instagram.com/secrets_of_the_moon_official
About Prophecy Productions
Prophecy Productions are an international label and were originally founded by their owner Martin Koller in Germany in 1996. From the beginning, the label has the declared aims of providing a dedicated home for eerie emotional music and to offer long-term collaborations to artists signing into the family. This concept has generated a roster displaying a stylistic emphasis on dark music from different genres such as metal and rock, alternative, and folk. Signees on the label are generally characterised by a strong artistic vision, which is reflected in premium physical products. Prophecy Productions is best known for artists such as Empyrium, Alcest, Arcturus, Tenhi, Dool, and The Mystery Of The Bulgarian Voices feat. Lisa Gerrard. Prophecy Productions are a part of the independent media group SPKR.